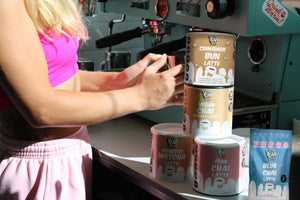 You are a restaurant/coffee shop/bar owner?
Register your company & order your FREE samples now
Satisfy
your customers
with our innovative drink concepts for professional use in your restaurant, coffee shop, hotel, bar, club, festival or delivery service.
You name it, the YEAH BLEND makes it.
Register and get special B2B prices as a business owner.
Get your free samples today
You are a restaurant/coffee shop or bar owner and would like to test our products without obligation?
Register your business now and order your free samples.
* The "Free Samples" offer is only available for business and restaurant/bar/coffee shop owners. We reserve the right to not ship the samples after a check whether you operate a restaurant or not.
Why yeah?
Our products are always:
- vegan
- gluten-free
- without palm oil
- without dyes
-without preservatives
- without artificial flavours
- lactose-free
- without emulsifiers & stabilizers
get in touch
Share your contact details and your message with us, our team will reply by email within a very short time.

Do good, yeah!
The Yeah Blend supports Center Ya Bana Im Congo:
A primary school with an affiliated bakery.
The ongoing operation of the elementary school Center Ya Bana is financed by the affiliated bakery.
Einfach Espresso mit unserer Pink Chai Latte kombinieren und voilà - Dein ganz persönliches, unverwechselbares Signature ist geboren!